---
WEARABLE TECHNOLOGY
In recent terms, I start to hear 'wearable technology' too much. So I just wanted to search about the wearable technology, and I am going to share my views about this new technology in our lives.
WHAT IS WEARABLE TECHNOLOGY?
Actually its definition is clear; you can predict what it is. Let's see the detailed explanation. "Wearable Electronics", "wearable devices", "wearable technology" refer to any electronic device or product which can be worn by a person to integrate computing in his daily activity or work.
Wearable devices were primarily used in the field of military technology and had the biggest implications for healthcare and medicine like beginning of every technological development. First example of wearable technology is a "Wearable Motherboard™" or the "Smart Shirt".  İts aim was monitoring vital signs and sending that biofeedback information to a hub station in real time.
Todays, the wearable technology is used at many different sides. The wearable technologies are used for different fields such as medicine, fitness, aging, disabilities, education, transportation, enterprise, finance, gaming and music. The goal of wearable technologies in each of these fields will be to smoothly incorporate functional, portable electronics and computers into individuals' daily lives. In addition to these fields, I am sure; the potential uses of wearable technologies in various fields will continue to grow in next days.
WHAT IS THE TECHNOLGY BEHIND THE WEARABLE DEVICES?
Generally, wearable technology will have some form of communications capability and will allow the wearer access to information in real time. At this part, we can say Augmented reality and wearable technology can combine to create a much more realistic and immersive environment in real time. This supplies the real time communication to us. In addition to augmented reality, I think this technology works with internet of things. Wearables are the advanced consumer face of the Internet of Things, which have managed to draw the interest of organizations and users.
WHAT ARE WEARABLE DEVICES?
In todays, the wearable technology market already has many successful wearable electronic products. The fields of wearable devices include watches, glasses, contact lenses, e-textiles and smart fabrics, headbands, beanies and caps, jewelry such as rings, bracelets, and hearing aid-like devices that are designed to look like earrings. It is most likely that the market would see some big mergers and acquisitions along with many new players and start-ups, making it big in the industry.
LET'S LOOK AT THE SOME EXAMPLES OF WERABLE DEVICES;
I'm Watch
The I'm Watch is a smartwatch that has its own market of apps. It connects to your smartphone via Bluetooth and once connected, it does what your smartphone does. You can receive notifications, read emails or messages, and make or receive calls. The watch is touchscreen and can act as a hands-free device with its built-in microphone. It also has an app store, and programmers are able to build new apps for its unique ecosystem. Available in seven colors, it is on the market at $400 a pop.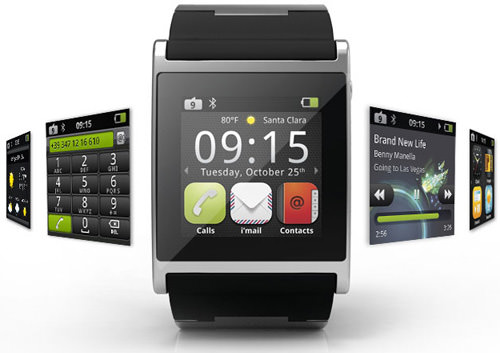 Nike+ FuelBand
The Nike+ FuelBand tracks your daily exercise and the calories burnt while doing those activities. For every activity, the LED will light up and let you know your progress. You can set these goals, view detailed progress, and unlock achievements to stay motivated, or share it with your social networks via its iPhone app.
Pebble Watch For Smartphones
Not a fan of smart glasses? Then, go for a smart watch instead. The Pebble is a watch that is paired with your iPhone or Android phone via Bluetooth. You can then receive push notifications such as Facebook messages and alerts for calls, messages and email. The magic behind the Pebble is that it is highly customizable and is great for use in the outdoors.
Nike Hyperdunk+
Athletes always want to improve themselves, and with this pair of Nike Hyperdunk+, basketball players can monitor their speed, jump height and their overall game performance. There are sensors on the shoe that transmit information to your smartphone via Bluetooth. You can even record videos of the play, then watch the videos with the matching display on screen. The videos and your stats can be shared on social media, or can be used to monitor your progress.
Interactive T-Shirts
Geeky T-shirts aren't exactly new, but put in some electronics, a few AA batteries, turn down the lights and you can actually have an equalizer dancing on your chest, reacting to the sounds around you.
Rusty's Wired Series
Say goodbye to tangled earphones that take up space in your pocket. Rusty has come up with a hoody with earphones that double as the elastic strings of the hood. To plug your music device in, in one of the side pockets, where you can house your music device, there is a jack to plug in your tunes.
Swarovski USB Necklace
Of the many out-of-the-ordinary flash drives, this one gives off a positive, almost classy vibe. Part of a line of crystal-studded USB drives, this 4GB USB necklace by Swarovski is proof that tech can also be sophisticated and elegant at the same time.
USB Cufflinks
Similar to the USB necklace, these cufflinks give a professional look to an already clean and formal look. Each cufflink carries 2 GB worth of storage, and is also available in gold and gunmetal.
Google Glass
Google Glass is a type of wearable technology with an optical head-mounted display (OHMD). It was developed by Google with the mission of producing a mass-market ubiquitous computer. Google Glass displays information in a smartphone-like hands-free format. Wearers communicate with the Internet via natural language voice commands. Google started selling a prototype of Google Glass to qualified "Glass Explorers" in the US on April 15, 2013, for a limited period for $1,500, before it became available to the public on May 15, 2014, for the same price.
You can follow the latest news about the wearable technology and wearable devices at these websites:
http://www.wearabletechnologyshow.net/
http://www.wearabledevices.com/
http://www.wearabletechworld.com/
https://www.wearable-technologies.com/